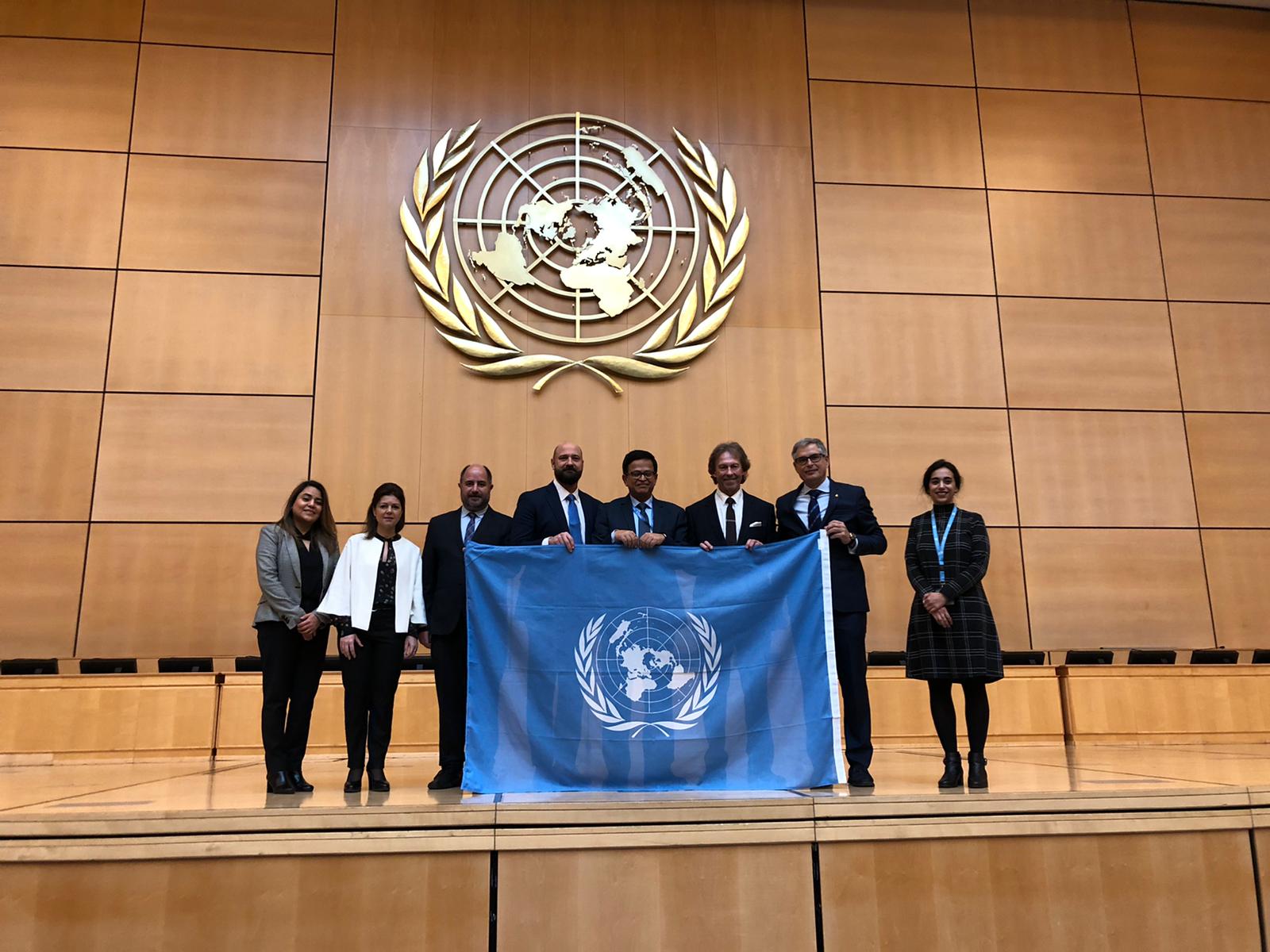 UNITAR, The International Training Centre for Authorities and Leaders in Madrid (CIFAL Madrid) and the Royal Automobile Club of Spain (RACE), and Smartbaby – Joie signed a global partnership agreement with the aim to strengthen capacity on child road safety. The 3-year agreement aims to raise awareness on improving child road safety in several countries in Latin America, as well as the training of authorities and technicians through the organization of specialized conferences, face-to-face courses, online gotools, and recommendations on policies and strategies to reduce road traffic injuries among children.
Every three minutes a child dies in the world as a result of road traffic crashes, representing one of the main causes of death among children in the world, especially in developing countries. Only in Latin America, it is the cause of almost 20,000 deaths among children per year. This agreement aims to develop capacities and to improve abilities to design and implement effective policies that address child road safety issues, including prevention and post-crash responses. It also contributes in the analysis of risk factors, as well as to promote the creation of legal frameworks and effective control systems.
This agreement promotes specific actions to mitigate road traffic crashes among children. For instance, Mexico and Ecuador have confirmed their participation in specialized conferences that include workshops targeted to technicians, police, educators, as well as practical exercises for health professionals as part of the post-crash response training programs.
In the past, CIFAL Madrid-RACE and JOIE have worked towards child road safety, for instance, through the creation of a postgraduate programme on Road Safety Management which includes online courses and webinars on vehicle safety, pregnancy, the morphology of the child or the groups of chairs, among others.
During the signing ceremony at the United Nations Palace in Geneva, Mr. Nikhil Seth, UN Assistant Secretary-General and Executive Director of UNITAR, commented that "One of the most effective measures to protect passengers from road traffic deaths and injuries is the use of child restraint systems and seat belts. Through this important alliance with JOIE, we provide training not only to drivers and passengers, but also technical assistance to public officials, political leaders and legislators on the implementation of comprehensive programs that promote the use of child restraint systems, in order to save the lives of the most vulnerable".
In the same line, Carmelo Sanz de Barros, president of the CIFAL Madrid-RACE, stated that "We welcome JOIE as a global partner of our Road Safety training project to reduce every day road traffic children injuries. A strategic alliance between UNITAR, RACE and JOIE will advance the prevention of children-related road traffic injuries in most sensitive countries, through the design and develop of tools to reduce risk injuries".
Global Chief Marketing Officer, Jerry Ingraham, shared words around their commitment to child road safety "We are delighted to join the United Nations Institute for Training and Research and CIFAL Madrid- RACE as global partners on child road safety. Child road safety is our passion and our goal, so this association is perfect. UNITAR's global network offers a unique opportunity to collaborate with public safety professionals and we look forward to partnering together to make the world a safer place for our children".